My Bearded Dragon Is Not Eating
A bearded dragon that is not eating is one of the most stressful and common problems. We will talk about some of the reasons why your beardie isn't eating and what are some things you can do.
Temperature
This is the first thing you should always check. The health of your beardie is dependant on proper temperature and heating. Having the wrong temperature setup will cause digestion issues. This will result in your dragon not eating.
The high-temperature area also known as the basking area should be at 105℉ / 40.5℃. The low-temperature area should be at 85℉ / 29℃.
If you are not using a digital thermometer to measure these areas you should invest in one. They are the most accurate and better than those with gauges or mercury. Make sure you are measuring the areas under the light or heating lamps. Don't measure from the side of the tank or outside of the tank. This will provide inaccurate measurements.
Lighting
Lighting is the next thing to check.
Bearded dragons need both UVA and UVB light. They need 12-14 hours a light a day during spring and summer. They need 8 hours of light in the fall and winter.
UVB is especially important because it helps with digestion. Bearded dragons need UV light that emits 290-320 nanometers. UVB light does not go through the glass so you must have your bulb either in the tank or on top of a tank that has a screen top.
You need to change your UV bulbs every 6 months. As time goes by the strength of the UVB light decreases. It is important to keep track of when you need to replace your bulbs.
The video below shows what is the best UVB lighting for bearded dragons.
Change In Surroundings
Bearded dragons hate change. They are creatures of habit. Even a slight change can affect their eating habits. Think back to any changes. Here is a list of things that could have changed.
Moving the Tank To a New Location
Adding or removing things in the tank
Moving of items in the tank
These changes could be the reason your bearded dragon is not eating. Give a few days for your bearded dragon to adjust to the new changes. If they are still not eating change the tank back and see if that makes are the difference.
Wrong Feeding Time
Bearded dragons are cold-blooded. The only way they can get warm in through external heat. If you are feeding your beardie in the morning, they may not be warm enough to eat. Give your beardie some time under the lights to warm up before feeding them.
Stress
Unlike people, bearded dragons do not stress eat. When stressed, they stop eating.
Are they sharing a cage with another bearded dragon? Unless you are breeding dragons keep your bearded dragons in separate tanks. Sharing a tank can lead to bullying and unnecessary stress.
Have you added a new bearded dragon to your family? Can they see the other bearded dragon? Even though they are not in the same tank this can be a cause of stress.
Are there new loud noises like construction that started recently? Loud noises or sudden movements can scare bearded dragons. This can be the source of stress that causes them to lose their appetite.
Did you get a new four-legged pet? Cats and dogs look like predators to your beardie. Your bearded dragon may feel threatened.
Diet
Did you add something to their diet or change it recently? Go back to what works or try something else. For an idea of other things to try jump-start their appetite check our guide.
Age
As bearded dragons get older the amount of time they eat decreases. Your bearded dragon not eating could be because they are getting older. See below how their feeding schedule changes as they get older.
Babies/Young (hatchling to 5 months)
They eat 4 to 5 times a day. This is when they need the most food since they are growing.
Juvenile (5 months to 18 months)
They are still growing but the process is slowing down. They should be eating 3 times a day.
Adult (18 months or more)
Once they are grown they eat for nourishment. They will be only eating 1 or 2 times a day.
Shedding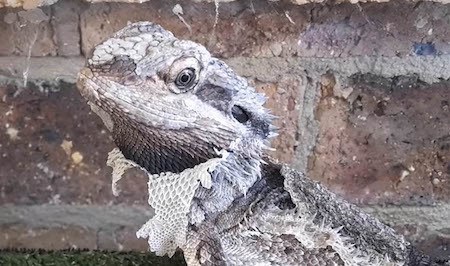 Shedding can be a cause for not eating as well. Shedding causes itchiness and discomfort. This is a reason why some bearded dragons don't want to eat. A nice bath usually helps the old skin come off because it moistens it. You want the skin to come off without your help. If you try to pull the skin off yourself you could hurt your beardie.
About to Lay Eggs
Your beardie might be preparing to lay eggs. Near the end of pregnancy, also known as gravid, bearded dragons will stop eating. They will look for a place to lay their eggs. If you notice her trying to dig a lot, provide her with a nesting area. Find out more about how to deal with a bearded dragon that is gravid/pregnant.
Brumation
Brumation is the reptile version of hibernation. This usually happens in the fall or winter seasons in the US but can happen at any time of the year. Depending on your dragon, they can hibernate from weeks to months. During this time they will lower their activity level, sleep and hide often and refuse to eat. Our suggestion is to take your beardie to a vet to make sure they are not sick. If everything checks out they are in brumation.
Provide food at normal times and wait it out.
Impaction
Impaction is one of the most common illnesses in bearded dragons. Impaction is when something is blocking their digestive tract. Impaction could happen if you are using a loose substrate (ie. sand, wood shaving, and aquarium pebbles) or if you a not feeding food that is too large for your bearded dragon. The size of the food should be no larger than the distance between your beardie's two eyes.
Signs include
Stop going to the bathroom
Stop using their hind legs
Stop eating
If you believe your beardie dragon is suffering from impaction take them to a vet.
Mouth Rot (Infectious Stomatitis)
Mouth rot is an illness that affects the gums and jaw bone of a bearded dragon. It is a bacterial infection and will have a direct impact on the dragon's appetite. Is there mucus, discoloration, or swelling of the mouth or head? Find out the signs of mouth rot and what to do.
Injury
If your beardie has an injury this can also be a cause of not eating. Check out your beardie, make should there are no cuts or open wounds. Observe how they are moving and walking. Make sure nothing is out of the ordinary or looks odd. Take them to a vet if you think they have an injury.
Parasites
Parasites are another reason that your bearded dragon may not be eating. Parasites are hard to detect. They also rob your bearded dragon of the nutrients they need when they do eat. The best thing to do is to get a stool sample and take it to your vet.
How Long Can A Bearded Dragon Go Without Eating?
Adult dragons (18+ months old) can go up to 2 months without food. This happens often during brumating. Baby (hatchling to 5 months old) and juvenile beardies (5 months to 18 months old) can go 2-4 weeks without food.
Should I force-feed my bearded dragon?
Unless your vet has told you to you should never force feed your dragon.
Conclusion
A bearded dragon not eating is a common problem. There is no single solution that will solve this problem but there is no cause for concern. There is a reason for this and you will have to do some detective work to find out the cause. Rest assured that you will find out and solve this problem as many other owners have. You will have your bearded dragon back on track in no time.