Need to get your beardie fix. Here are the best places to find cute bearded dragons from around the web. We also have our top picks from each.
Best places to find Cute Bearded Dragon Photos
No surprises here. Pinterest and Instagram (AKA IG) are where you can find the cutest and lovable photos. Fill hours and hours of time scrolling and swiping. From different costumes to different poses you can waste weeks and weeks here.
Pinterest
Pinterest calls itself a "visual discovery engine". In plain terms, it is a big bulletin board where people post images AKA "pins". You will find everything and anything here. This includes cute beardies.
Here is a video that shows you everything you need to know to get started on Pinterest.
You go to the search bar and type in "cute bearded dragon". Then scroll or swipe to your heart's content.
Below are some of our top 3 favorite pins
You can also look and follow different bearded dragon pinboards. This will alert you when something new gets posted to the pinboards.
Here are our top 3 favorite bearded dragon boards
Bearded Dragon Clothing
Who doesn't like to see a dressed up beardie? Here you can find cute bearded dragon clothing. From Harry Potter to Jurassic Park. No doubt you will find something to add to your own beardie's wardrobe.
https://www.pinterest.com/JMIXON77/bearded-dragon-clothing
Bearded Dragon Resting Bed
Seeing cute bearded dragons nestled up in there favorite bed will make any heart melt. Check out this board to find every possible imaginary bed for a bearded dragon. You will be furniture shopping for your baby's tank fast.
https://www.pinterest.com/JMIXON77/bearded-dragon-resting-bed
Bearded Dragons
From poses to artwork to anything beardie related, you can find it here. Get your cute bearded dragon fix here.
https://www.pinterest.com/wikkedfun/bearded-dragons
Beardie Owner Apparel / Clothing
Bearded dragon owners need clothes too! Check out all the cute bearded dragon shirts and apparel out there.
https://www.pinterest.com/BeardedDragonOwners/beardie-owner-apparel-clothing
Instagram
Instagram (IG for short) is a "free photo and video sharing". People from all over the world share what the love on Instagram. This includes bearded dragon lovers.
To learn how to use Instagram check out the video below:
People on Instagram post this photos and videos with a hashtag (#). The best way to search Instagram is to use these hashtags. Below is a list of our favorite bearded dragon hashtags to look for cute bearded dragons.
#beardeddragon
#beardeddragonsofinstagram
#beardiesofinstagram
#beardie
#beardeddragons
#pogonavitticeps
#beardeddragonlife
#beardeddragonsofig
#beardielove
#beardeddragonlove
#beardies
#beardielife
#beardiesofig

You can also follow users on Instagram. Our favorite bearded dragon user by far is Pringles. They don't post much but when they do I guarantee it will put a smile on your face.
Best places to find Cute Bearded Dragon Clips and Videos
If photos aren't enough for you. Check out these places for cute clips and videos of some beardies.
Tenor
Tenor is an online GIF search engine and database. All those cute GIFs you see on text messages and social media are found here. Here is a link to find all the cute bearded dragon GIFs on Tenor.
https://tenor.com/search/cute-bearded-dragon-gifs
Here are our favorites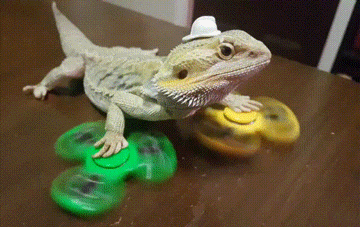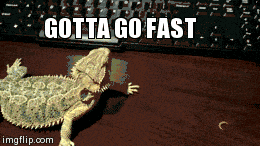 YouTube
Unless you have been living under a rock you should know what YouTube is. What you might not know is there are a lot of adorable bearded dragon videos that you can watch. It might not be better than Game of Thrones but better than what is streaming on Netflix. Here are our top picks.
Tumblr.com
Tumblr is a website that lets you post anything. Think of it as a super-powered online diary. This is where people post "Post text, photos, GIFs, videos, live videos, audio, anything."
Not as well known as some of the previous places we have listed but still a great place to take a break from the world and spend some time with some amazing beardies. Go to the link and relax.
https://www.tumblr.com/search/bearded+dragon
Here are some that we loved!
Conclusion
Those are our favorite places to find all things cute for bearded dragons. Comment below if you know of anywhere else. We can never have enough bearded dragon things in our lives!